EAN 006838 Steiff wool felt Friedhelm's horse on wheels, brown
EAN 006838 Steiff wool felt Friedhelm's horse on wheels, brown
---
Product Description
Friedhelm's horse on wheels, is 32 cm in size, not jointed, made from brown colored wool felt and is limited to 934 pieces.

Continuing the Steiff "Family Collection", this issue pays tribute to Margarete's great-nephew and former managing director Friedhelm Steiff, who was given a horse on wheels for Christmas 1939. It was his favourite childhood toy, he once recalled: "I used to groom him, brush his mane and give him plenty to drink". Sadly, Friedhelm passed away in 2019, but he knew his childhood treasure had been chosen for this wonderful family series and naturally felt honored.

The mane and tail are made of mohair, the saddlecloth is made of felt, and the saddle and girth are made of vegan leather. It presents itself as a beautiful reminder of the marvelous and magical toys Steiff have made.

He comes in a collectors box with certificate of authenticity.

Size: 32 cm
Size: 12 inches
Edition Year: 2021
Edition Size: 934
Receive a 10% price reduction at checkout if you use coupon code: Bear Bucks For Me!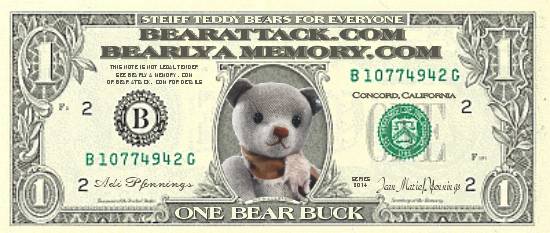 ---
Find Similar Products by Category
---
---
If you have any questions or special requests please contact us:

Email: bearlyamemory@bearattack.com
Toll Free Order Line: 800-559-4585
Or
925-922-0592
7 days a week from 8:00 am to 9:00 pm pacific standard time
"Friendly, courteous service guaranteed!"