EAN 006135 Steiff hemp plush Tomorrow Hanna Teddy bear, brown
EAN 006135 Steiff hemp plush Tomorrow Hanna Teddy bear, brown
---
Product Description
Tomorrow Hanna Teddy bear, is 22 cm in size, 5-way jointed, has glass eyes, is wood wool stuffed, made from brown colored hemp plush and is limited to 2,020 pieces.

Hanna is thrilled to follow in the paw prints of her big brother Hansel, the very first Teddies for Tomorrow bear. Her paw pads are made from felted plant fibres (Violan). She wears her polished brass chest tag with the original Company logo of 1897. She is issued in the series Teddies for Tomorrow and comes in a collectors box with certificate of authenticity.

Size: 22 cm
Size: 9 inches
Edition Year: 2021
Edition Size: 2,020
Receive a 10% price reduction at checkout if you use coupon code: Bear Bucks For Me!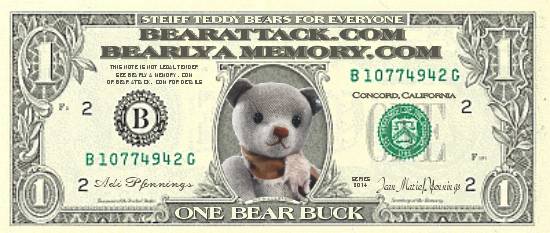 ---
Find Similar Products by Category
---
---
If you have any questions or special requests please contact us:

Email: [email protected]
Toll Free Order Line: 800-559-4585
Or
925-922-0592
7 days a week from 8:00 am to 9:00 pm pacific standard time
"Friendly, courteous service guaranteed!"