EAN 001673 Steiff mohair Birth Teddy bear, crème
EAN 001673 Steiff mohair Birth Teddy bear, crème
This item is not currently in stock.

Please email or call us for ordering details.
bearlyamemory@bearattack.com or telephone toll free, 8am-9pm pacific 7 days per week
1-800-559-4585

Normally ships within 2 to 4 weeks.
---
Product Description
Birth Teddy bear, is 27 cm in size, 5-way jointed, can be obtained with individual embroidered foot pads, made from crème colored mohair and is not limited.

Size: 27 cm
Size: 11 inches
Edition Year: 2021
Edition Size: -
Receive a 10% price reduction at checkout if you use coupon code: Bear Bucks For Me!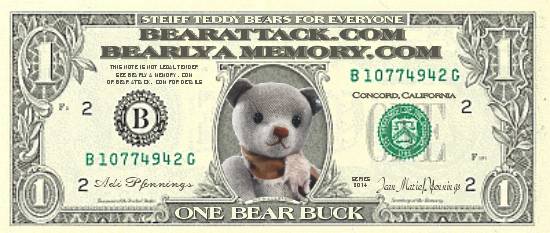 ---
Find Similar Products by Category
---
---
If you have any questions or special requests please contact us:

Email: bearlyamemory@bearattack.com
Toll Free Order Line: 800-559-4585
Or
925-922-0592
7 days a week from 8:00 am to 9:00 pm pacific standard time
"Friendly, courteous service guaranteed!"