EAN 007569 Steiff mohair mama Teddy bear with baby, blond
EAN 007569 Steiff mohair mama Teddy bear with baby, blond
This product is available for pre-order only
---
Product Description
Mama Teddy bear with baby, is 5-way jointed, made out of blond colored mohair and is limited to 1500 pieces.
A mother's child is the most precious gift and how a mother cares, protects and adores their child is a wonder to behold. This gorgeous Mama and baby encapsulates the special bond between the two enveloped in the most scrumptious cosy and of course secure and safe winter wear. A wondrous picture of love and affection to be enjoyed all year round. The Amauti parka is made out of Velboa fabric and the printing is based on traditional Amauti patterning. Traditional Inuit parka are made with a wide hood in which toddlers could be transported. The parka can be tied with white/brown cord and the hood is lined with white plush. More details of the baby Teddy bear will be added once they become available.
Mama Teddy bear with baby comes in a collectors box with certificate of authenticity.
Size: 23 cm
Size: 9 inches
Edition Year: 2023
Edition Size: 1500
Receive a 10% price reduction at checkout if you use coupon code: Bear Bucks For Me!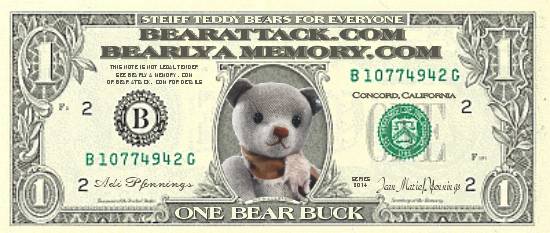 ---
Find Similar Products by Category
---
---
If you have any questions or special requests please contact us:

Email: bearlyamemory@bearattack.com
Toll Free Order Line: 800-559-4585
Or
925-922-0592
7 days a week from 8:00 am to 9:00 pm pacific standard time
"Friendly, courteous service guaranteed!"