EAN 007507 Steiff mohair Kris Christmas Teddy bear with music-box, beige
EAN 007507 Steiff mohair Kris Christmas Teddy bear with music-box, beige
This product is available for pre-order only
---
Product Description
Kris Christmas Teddy bear with music-box, is 5-way jointed, made out of beige colored mohair and is limited to 1225 pieces.
He wears a duffle coat made of deep red wool fabric with high-quality woven plush trims, lined hood and wooden toggle buttons. He has a white cotton fleece scarf and hand stitched brown nose with white glance. The music-box plays Nat King Cole's "The Christmas Song" also known as "Chestnuts roasting on an open fire", which fills any room with nostalgia. He features embroidered paw pad with the musical notes of the song.
Kris comes in a collectors box with certificate of authenticity.
Size: 31 cm
Size: 12 inches
Edition Year: 2023
Edition Size: 1225
Receive a 10% price reduction at checkout if you use coupon code: Bear Bucks For Me!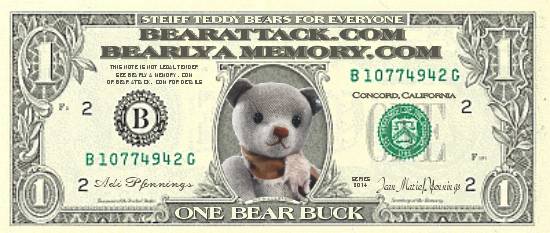 ---
Find Similar Products by Category
---
---
If you have any questions or special requests please contact us:

Email: bearlyamemory@bearattack.com
Toll Free Order Line: 800-559-4585
Or
925-922-0592
7 days a week from 8:00 am to 9:00 pm pacific standard time
"Friendly, courteous service guaranteed!"