EAN 421709 Steiff mohair Event bear 2022, ice blue
EAN 421709 Steiff mohair Event bear 2022, ice blue
---
Product Description
Event bear 2022, is 5-way jointed, made from ice blue colored mohair.
The Event bear was only available at Steiff club events.
The bear will only be available in 2022 and the edition size has not been announced by Steiff yet.
All three 2022 club bears wear the exclusive Steiff club grey ear tag. The bear does not come in a box but has a certificate of authenticity.

Size: 20 cm
Size: 8 inches
Edition Year: 2022
Edition Size: Year
Receive a 10% price reduction at checkout if you use coupon code: Bear Bucks For Me!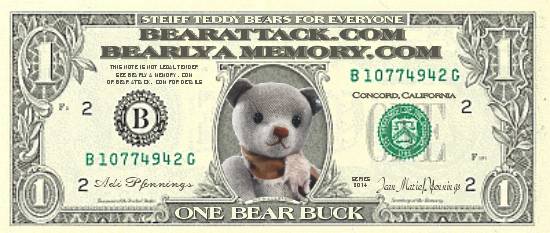 ---
Find Similar Products by Category
---
---
If you have any questions or special requests please contact us:

Email: bearlyamemory@bearattack.com
Toll Free Order Line: 800-559-4585
Or
925-922-0592
7 days a week from 8:00 am to 9:00 pm pacific standard time
"Friendly, courteous service guaranteed!"