EAN 007347 Steiff mohair Matty Jack Russell Terrier, blond
EAN 007347 Steiff mohair Matty Jack Russell Terrier, blond
This item is not currently in stock.

Please email or call us for ordering details.
bearlyamemory@bearattack.com or telephone toll free, 8am-9pm pacific 7 days per week
1-800-559-4585

Normally ships within 2 to 4 weeks.
---
Product Description
Matty Jack Russell Terrier, is 25 cm in size, is 1-way jointed (head), made from blond colored mohair and is limited to 1902 pieces.
Ben and Mila must have been particularly well behaved this year because their biggest Christmas wish will come true. The Teddy bear family is getting a puppy, the sweet and spirited jack russel terrier Matty. With a heart warming puppy gaze and in an expectant pose he is ready for a wonderful Christmas party. His mohair coat keeps him snug and warm when he sets off for a winter walk with his family. He has a collar made from wool felt with bell and gold colored thread details.
Matty comes in a box with certificate of authenticity.
Size: 25 cm
Size: 10 inches
Edition Year: 2022
Edition Size: 1902
Receive a 10% price reduction at checkout if you use coupon code: Bear Bucks For Me!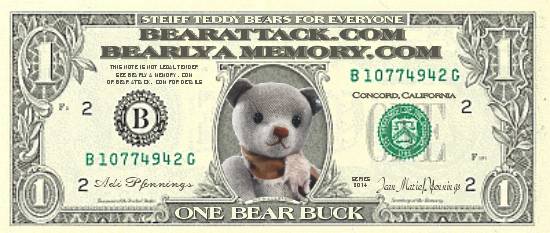 ---
Find Similar Products by Category
---
---
If you have any questions or special requests please contact us:

Email: bearlyamemory@bearattack.com
Order Line: 925-922-0592
7 days a week from 8:00 am to 9:00 pm pacific standard time
"Friendly, courteous service guaranteed!"