EAN 007316 Steiff bamboo/viscose plush Tomorrow Unicorn, white
EAN 007316 Steiff bamboo/viscose plush Tomorrow Unicorn, white
---
Product Description
Tomorrow Unicorn, is 30 cm in size, not jointed, stuffing is made from Polylactid (corn fiber), made from white colored bamboo/viscose plush and is limited to 2020 pieces.
The unicorn is not only the emblem of Margarete Steiff's hometown Giengen, but also a fascinating mythical creature that has inspiredpeoples imaginations for centuries. This majestic rearing unicorn thus combines tradition and fairytale in itself. It's radiant white mane and golden horn complement each other to create an elegant overall image. Hooves and horn are made from golden imitation leather and features hand painted nostril and mouth. Articulated wires in the legs and tail ensure a stable stand. The new unicorn is ready to gallop into the future. Chest tag is made in a polished brass with deep-cut brand logo (in use since 1897).
Unicorn comes in a box with certificate of authenticity.
Size: 30 cm
Size: 12 inches
Edition Year: 2022
Edition Size: 2020
Receive a 10% price reduction at checkout if you use coupon code: Bear Bucks For Me!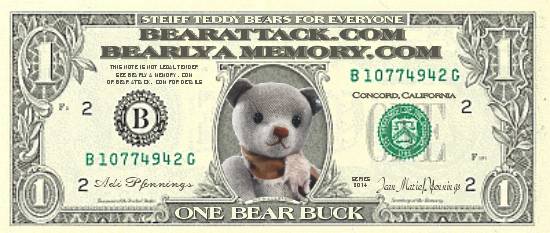 ---
Find Similar Products by Category
---
---
If you have any questions or special requests please contact us:

Email: bearlyamemory@bearattack.com
Order Line: 925-922-0592
7 days a week from 8:00 am to 9:00 pm pacific standard time
"Friendly, courteous service guaranteed!"