EAN 007231 Steiff mohair Ben Teddy bear with winter jacket, beige
EAN 007231 Steiff mohair Ben Teddy bear with winter jacket, beige
---
Product Description
Ben Teddy bear, is 28 cm in size, is 5-way jointed, made from beige colored mohair and is limited to 1902 pieces.
The Steiff Teddy bear children Ben and Mila have been the heroes since spring 2022. After these miniature versions now the tall versions are presented individually. The adventurous Ben and his lively little sister Mila are looking forward to their first Christmas and playing in the snow. With his fleece jacket that is as warm as it is cool, Ben is equipped for the cold season. He would love to make a trip with his sister to the Steiff Christmas market, but she has once again already disappeared.
Ben comes in a box with certificate of authenticity.
Size: 28 cm
Size: 11 inches
Edition Year: 2022
Edition Size: 1902
Receive a 10% price reduction at checkout if you use coupon code: Bear Bucks For Me!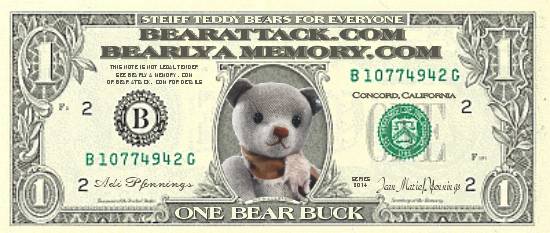 ---
Find Similar Products by Category
---
---
If you have any questions or special requests please contact us:

Email: bearlyamemory@bearattack.com
Toll Free Order Line: 800-559-4585
Or
925-922-0592
7 days a week from 8:00 am to 9:00 pm pacific standard time
"Friendly, courteous service guaranteed!"