EAN 006180 Steiff bamboo/viscose plush Tomorrow Björn grizzly bear, brown
EAN 006180 Steiff bamboo/viscose plush Tomorrow Björn grizzly bear, brown
---
Product Description
Tomorrow Björn grizzly bear, is 34 cm in size, 5-way jointed, stuffing is made from recycled PET bottles, made from brown colored bamboo/viscose plush and is limited to 2020 pieces.
His jacket is made of linen with coconut button and a chic linen jersey scarf. With great attention to detail he has artistic airbrushing to his nose and jacket. Chest tag is made in a polished brass with deep-cut brand logo (in use since 1897).
He is issued in the series Teddies for tomorrow and comes in a collectors box with certificate of authenticity.
Size: 34 cm
Size: 13 inches
Edition Year: 2021
Edition Size: 2020
Receive a 10% price reduction at checkout if you use coupon code: Bear Bucks For Me!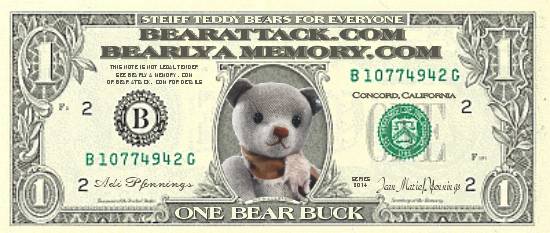 ---
Find Similar Products by Category
---
---
If you have any questions or special requests please contact us:

Email: [email protected]
Toll Free Order Line: 800-559-4585
Or
925-922-0592
7 days a week from 8:00 am to 9:00 pm pacific standard time
"Friendly, courteous service guaranteed!"