EAN 421594 Steiff mohair 25 year club Loyalty edition Teddy bear, pale blond
EAN 421594 Steiff mohair 25 year club Loyalty edition Teddy bear, pale blond
---
Product Description
The 25 year club Loyalty edition Teddy bear, is 24 cm in size, 5-way jointed, made from pale blond colored mohair and is not limited (yellow ear-tag).

In 1992 the Steiff Club began!

The Club is taking this opportunity to look back over its own bit of history and offer special editions exclusively to loyal club members.

The 25 year loyalty edition is a beautiful Teddy with a golden tint. Her unforgettable expression comes together with a lovely hand-stitched nose, sculpted muzzle and the most friendly eyes. She has all-wool felt paw pads. A wool-felt Steiff Club chest tag and glittery bow notes his loyalty of 25 years. A lovely felt collar and clown hat complete her look.

This beautiful loyalty Teddy bear has the iconic Steiff button-in-ear and a classic yellow tag. These bears will be availabe for a limited time only and only for those who have been a Steiff Club member for a minimum of 25 years.

The bear does not have a box and does not come with a certificate of authenticity.

Size: 24 cm
Size: 10 inches
Edition Year: 2018
Edition Size: -
Receive a 10% price reduction at checkout if you use coupon code: Bear Bucks For Me!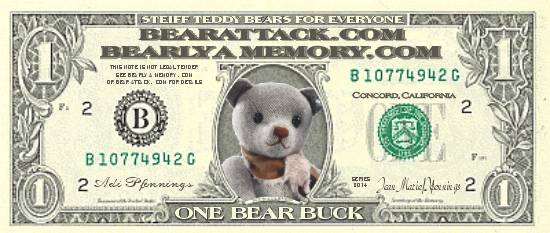 ---
Find Similar Products by Category
---
---
If you have any questions or special requests please contact us:

Email: bearlyamemory@bearattack.com
Order Line: 925-922-0592
7 days a week from 8:00 am to 9:00 pm pacific standard time
"Friendly, courteous service guaranteed!"