EAN 421457 Steiff mohair Noah's Ark zebras and giraffes, multi colored
EAN 421457 Steiff mohair Noah's Ark zebras and giraffes, multi colored
---
Product Description
Steiff Noah's Ark is only available to Steiff Club members. It comes with 2 Teddy bears, 18 animals, a wooden Ark, is limited to 500 pieces and all pieces will have the same limited edition number. It is issued over 2017 and 2018 in 4 parts.

The second set (421457) consists of two zebras, 14 and 15 cm in size, and two giraffes, 20 and 21 cm in size. All four animals are made of the finest printed mohair, and are characterized by extensive airbrushed effects and different materials. For instance, one of the zebras has a black and the other a white mane; one of the giraffes is cream, the other beige. The horns and ears are made of painted felt.

Each part comes in boxes with certificates of authenticity.

Size: 14 & 15 & 20 & 21 cm
Size: 6 & 6 & 8 & 8 inches
Edition Year: 2017
Edition Size: 500
Receive a 10% price reduction at checkout if you use coupon code: Bear Bucks For Me!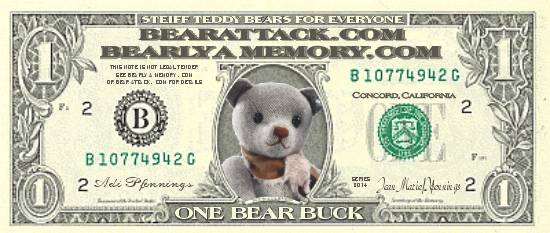 ---
Find Similar Products by Category
---
---
If you have any questions or special requests please contact us:

Email: bearlyamemory@bearattack.com
Toll Free Order Line: 800-559-4585
Or
925-922-0592
7 days a week from 8:00 am to 9:00 pm pacific standard time
"Friendly, courteous service guaranteed!"