EAN 501050 - 901386 Steiff Disney woven fur Studio Bambi with butterfly, brown/multicolored
EAN 501050 - 901386 Steiff Disney woven fur Studio Bambi with butterfly, brown/multicolored
Price:
$2,400
Item is in stock!
Please call or email to order
Shipping restrictions apply
---
Product Description
Studio Bambi is 100 cm in size, not jointed, has embroidered eyes, made from brown woven fur and is not limited.
When Bambi came to the cinemas in 1942, the little whitetail conquered the hearts of young and old. Since that time, the fifth of Walt Disney's full-length cartoon features managed to play a big role for every new generation. Collectors and Bambi fans can both rejoice.

With large embroidered doe eyes, a lifelike black nose and a fluffy bobble tail the collector's item will wake memories. A beige stripe runs from the front all the way along the stomach and fawn flecks cover the entire body, creating Bambi's unmistakable look. Even though this Disney Studio Bambi is not a toy, it will certainly enjoy a gentle stroke by little hands: The soft faux fur is surface washable and can therefore be kept in pristine condition.

Film fans, storytellers and Steiff collectors will surely enjoy the company of this timeless classic.

Bambi comes with a free gift: a butterfly 22cm (9 inch) that cannot be bought separately (EAN 901386).
It can be magnetically attached to the deer's tail.

©Disney.

Size: 100 cm
Size: 40 inches
Edition Year: 2021
Edition Size: -
Receive a 10% price reduction at checkout if you use coupon code: Bear Bucks For Me!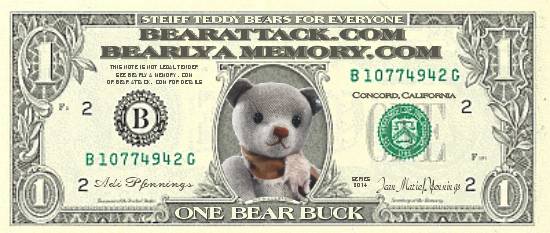 ---
Find Similar Products by Category
---
---
If you have any questions or special requests please contact us:

Email: bearlyamemory@bearattack.com
Order Line: 925-922-0592
7 days a week from 8:00 am to 9:00 pm pacific standard time
"Friendly, courteous service guaranteed!"