EAN 355578 Steiff mohair Shrek donkey, gray
EAN 355578 Steiff mohair Shrek donkey, gray
---
Product Description
Shrek donkey is 30 cm in size, 1-way jointed, has embroidered eyes, made from gray colored mohair and is limited to 1,500 pieces.
Released in 2001, Shrek was a pop culture phenomenon, connecting with both children and adults. The ugly ogre with the heart of a hero launched a franchise of films that make him a perfect choice to be presented by Steiff.
Donkey is hilarious, a confident and annoying wise-crackin' fast-talker who always has the most ridonkulous lines. With a mouth that just won't quit as well as the heart of a noble steed. As Shrek's best friend and sidekick, he's always up for an adventure filled with non-stop talking, singing, humming and dancing.
Shrek donkey comes in a box with a certificate of authenticity.

Shrek © 2019 DreamWorks Animation LLC. All Rights Reserved.

Size: 30 cm
Size: 12 inches
Edition Year: 2020
Edition Size: 1500
Receive a 10% price reduction at checkout if you use coupon code: Bear Bucks For Me!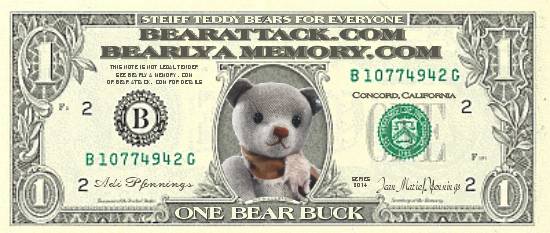 ---
Find Similar Products by Category
---
---
If you have any questions or special requests please contact us:

Email: bearlyamemory@bearattack.com
Toll Free Order Line: 800-559-4585
Or
925-922-0592
7 days a week from 8:00 am to 9:00 pm pacific standard time
"Friendly, courteous service guaranteed!"